Here it is, the Pacific Northwest shawl, this time done in KnitPicks Alpaca Cloud:
I really like the way it came out in the solid color. While I loved the Claudia silk I used
last time
, the intense color variegation did hide the patterns. With the solid gray of the Alpaca Cloud, the pattern really
pops
.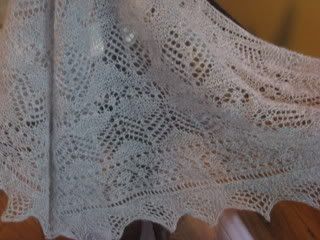 I have to confess, I am enjoying this pattern in a way that may be a touch unhealthy. I want to make
yet another one
. It is just an extremely pleasant knit with a beautiful result.
The fact that this is the first lace-as-such pattern that I have actually managed to do without mangling it beyond hope may have something to do with my passionate love, here.
Now, of course, I have to decide What Next. Other than another shawl, because really now. Moderation in all things, right?