I want
this sweater
(picture taken from linked story):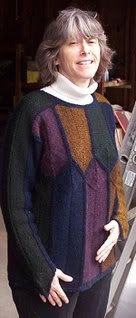 No, I can't go make it myself! *sheesh!* I want
this sweater
, don't you understand? It is hand-dyed and hand-spun AND designed AND THEN knit by the lovely lady modeling it, and I can't just go out and substitute yarns and try to figure out how she did it! Even though she mostly explained it. I am simply not bright enough to fill in the blanks. And also, my spinning stinks. And furthermore? I've never really done the hand-dyed thing.
{sigh of purest unrequited love}
{pout}
{kick grass tuft}
…I just love this sweater so-so much…and I don't think she's gonna gimmie it…
{pout pout pout pout}