We had a temporary produce crisis in the Den: The last delivery from Planet Organics came just a couple days before the first one from Fresh Edibles, and I wrapped it all up in
Evert-Fresh
bags and began working my way slowly through the lot.
Slowly
.
So slowly that I realized at the rate I was going, at least
half
of it was going to be wasted, keep-fresh-bag or no.
So I made a stock with everything that was looking a little less-than-great, and a couple things of soup to freeze, and went through consolidating everything else and made a summer squash stir fry and then, when it came time to do the washing up…
Green bags, as far as the eye could see.
Hmmmmm…
You can reuse these bags at
least
eight times, so I usually rinse them out and prop them up to dry overnight on the counter. But people…I had an awful lot of these bags here. There wasn't enough counterspace in the whole
kitchen
to dry that many bags.
Pondering this
terribly vital issue
(shut up), I looked out my window and saw my clothesline, empty but still stretched across the yard.
Hmmmmmm…
The sun was way down on the horizon and thus the line was in the shade, and it was still plenty warm outside. They wouldn't
cook
, but they'd definitely
dry
…
So I crept out like a bandit, hung up the bags as fast as I could, and bolted back inside before anybody saw me at it.
Because, really now. You're
line drying
your
plastic baggies
?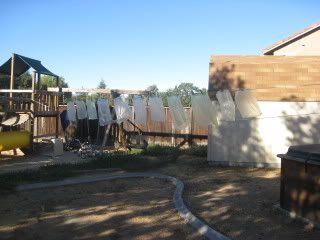 Why yes. Yes I am.
With two clothespins each, no less.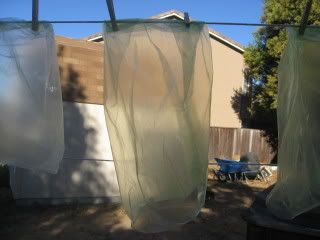 What? It was a little windy.
The next morning I raced out, turned the bags inside out and pinned them back on the line for another ten minutes (I set a timer – I didn't want them hanging in
full sunlight
), just to make sure
all
the moisture was gone.
Then I grabbed them off the line, folded them up and stuck them back in the canvas bags for the next farmer's market trip.
Sometimes, I wonder what the neighbors make of me, I truly do…