My knitting time has taken a serious face-plant lately. Summer vacation having eliminated most of the time I sit around waiting for Denizens here, there and everywhere, I'm trying to grab moments where I can. And then I started working again. Hello, no-time-at-all-for-anything!
Nevertheless…ladies and gentlemen, the starfish are in the house: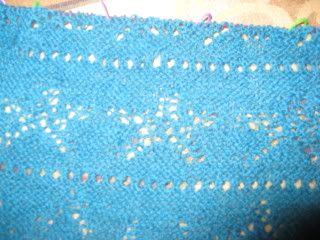 It's actually starting to look like a shawl now. This being a pattern that
starts
with the whacking-huge 1,672,170 cast-on stitches, it gets faster and faster as you go – a definite plus for me right now. The first bunch of rows took a good half hour or forty-five minutes to do, and now I'm getting through a row in about fifteen minutes, give or take depending on how many yo-ssk-blah-blah-blah they put me through.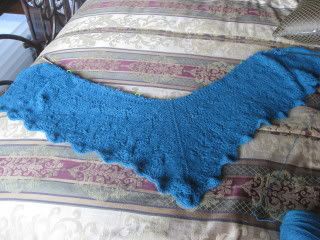 This shawl is heading to the prayer shawl ministry when it's done. It's been causing a bit of a mix-up in the group (bwa-hahahaha). We've all settled into a rut, all doing the same thing again and again and again: *Pick a bulky acrylic yarn, grab huge needles, cast on a bunch of stitches, knit a rectangle or triangle, repeat from *.
As I was digging through looking for another bulky yarn for another triangle, it suddenly hit me: Why?
Why is it that my "fiddly" knitting, my "cool" knitting, my "fun" knitting, was reserved only for, you know,
family
?
What's wrong with doing something, you know, interesting, for
others
? Maybe a little more intricate, a little lacier, a little more feminine, a little more delicate? Especially when we're talking about
this
group, where there are no 'acrylic only' or 'machine wash only' restrictions? These shawls are given to people on a
very
personal, one-on-one basis, with full ability to make sure the receiver isn't allergic to wool or hand-washing something.
Why not do something other than the bulky-yarn-triangle?
So I started bringing this to the meetings.
And now one of the other members is doing a box-lace lap blanket in a worsted weight. Because she suddenly thought,
Hey! I can do that kind of stuff! Why don't I do that kind of stuff?!
Mwa-HAHAHAHAHA!!!
The virus has been spread.
My work there is done.
…except that I've still got, what, a hundred rows or so to go?...