In spite of knitting time being pretty scarce right now, some progress has been made on the Creatures of the Reef shawl:
I finally wrestled my way through that first major pattern block, the seahorses and crabs. I can't wait for the post-blocking pictures, because right now it's doing That Lace Thing, where you try to tug it out so see the shape, and the minute you let go it
shrinks back up
. This is about the best picture I could get (seeing as how I have only two hands – if I could just figure out how to take a picture with my toes, this would be much, much easier).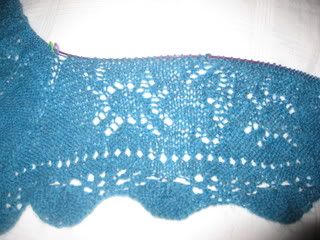 I enjoyed this first bit very much. The pattern was difficult enough to be interesting, but not so difficult that I had to bite back curses or tears. Much.
I'm halfway through the 'bubble' pattern that delineates each of the main patterns, and then it'll be on to the starfish!
…oh no…starfish…Patrick and Spongebob!…lace knitting...fun...what is FUN?...fun is...well, it's sorta like a...what is fun...let me spell it for ya...
The FUN Song
GAAAAAAH! CURSED NICKELODEON BRAIN WORM!!!!!!
(Ah, Spongebob. Purveyor of fine brain worms since 1999...)