OK, one person on my list is out of luck. I finished one of my Christmas projects. Behold, the Blue Shawl: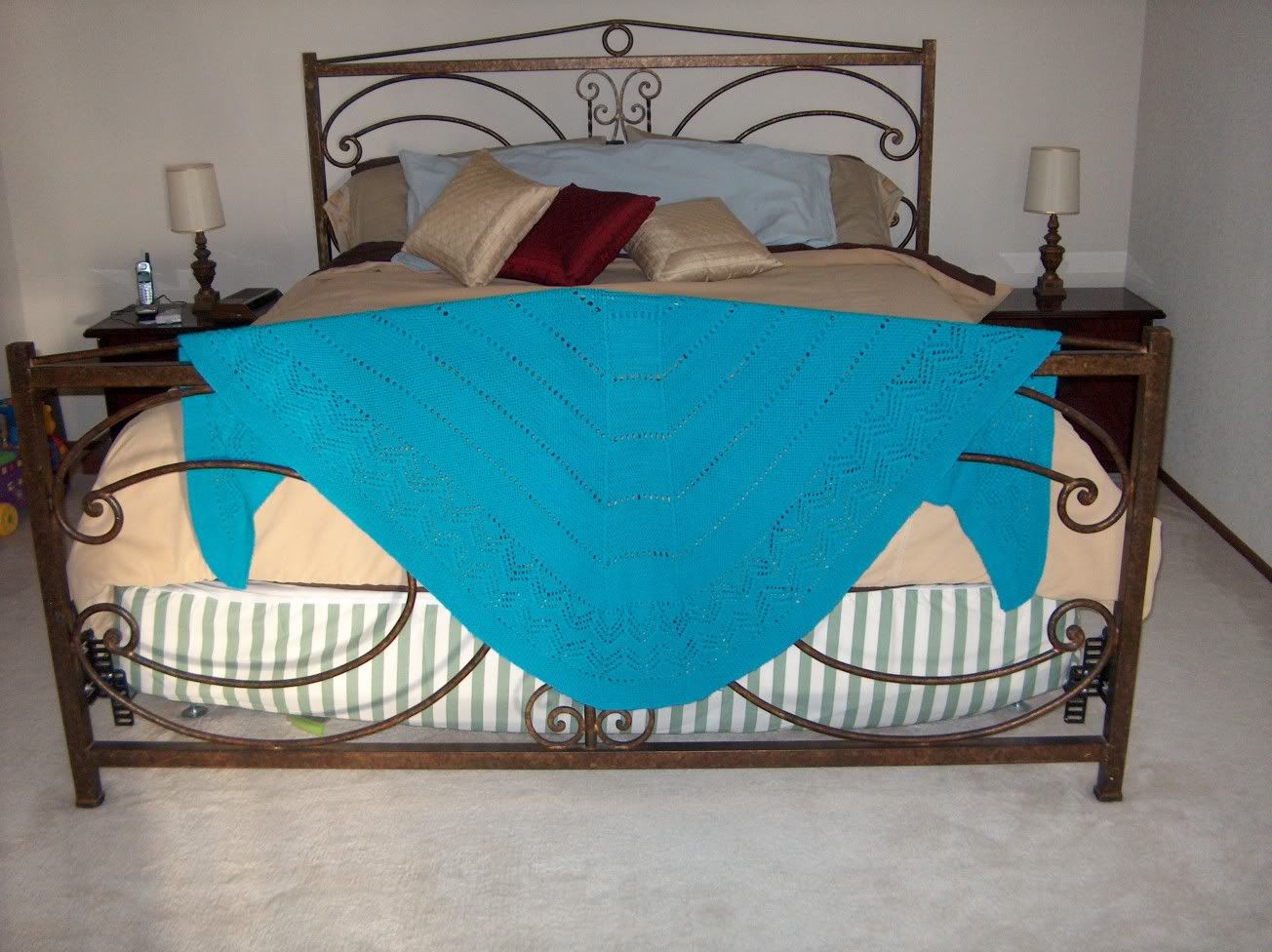 This is the Stora Dimun shawl from Cheryl Oberle's Folk Shawls book. It was the one that starts off with the dreaded instruction to cast on 449 stitches very loosely. And I am
loving
this blue, because it is one of those 'bright, warm, cheerful' colors. I washed it gently and blocked it even more gently, and it turned lovely-soft.
I am tempted to keep it. Only if I did, I'd have
yet more
Christmas knitting to get around to, so I'm just lying to myself and saying that I can make myself another one later.
It whipped out pretty darned fast, all things considered. The groovy thing about one of these styles, where you start off with the "oh my god, HOW MANY STITCHES?!" thing, is that as you're getting near the end, you're
flying
. I got through the last fifty rows so fast I was almost shedding
tears of gratitude
.
Because I've got a whole lot more knitting to do. I have…two pairs of lacy socks. One pair of funky socks. Three pairs of "just plain" socks. One whispy-wafty scarfy thing (laceweight…argh…). A few sets of the cotton chenille flower washcloths from
Weekend Knitting
(there's a picture of one here – roll over the pink blur).
Let's see. Five 'suitable for cool young men' hats, one 'righteous' hat for eight year old male, one wee pink shawl for a wee little girl, four sets of hats and mittens for girl-children.
I'd also like to whump out some of those Fair Isle coasters from KnitPicks because they just amuse the socks off me, and while I'm at it I'd rather like a pair of wrist / forearm warmers for myself made out of the warmest wool I can dig out of my stash. I don't care if they look
utterly and completely
dorky. My hands are
cold
, and I dislike this.
Meanwhile, back at the Den, I still 'need' to finish Eldest's sweater, and then start on the one for my Freakishly Long Armed Spouse. Who has informed me that I
must
make a matching one for myself because it would be, and I quote, "cute".
That I do not
do
"cute" means nothing to this man. He thinks we should go around in matching hand-knit sweaters.
Oh,
ack
.
Well. Must dash. There are only twenty more knitting days until Christmas…and yes, I'm counting both today AND Christmas Day itself…