We'll start with the frugal-ly stuff: A whack of, get this, "generic superwash Merino Nylon."
That's right.
Generic superwash.
And loads of it.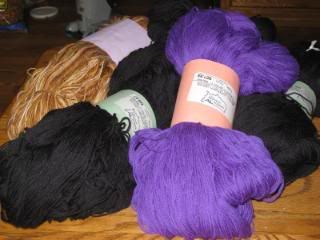 This is, of course, from
Newton's Yarn Country
. I always make one of my very first stops their booth, because of their super-steep discount prices on things like this (and tendency to sell out of the "good" colors early on in the day).
It's decent sock yarn, but not super-sexy. The colors tend to be basic. The variety is limited. The packaging can be a little bare-bones.
But the value is undeniable.
For example
, the one variegated brown skein? That would be roughly 1,600 yards of sock-weight yarn…for $17. The average pair of socks takes between 400 and 450 yards, so this skein represents up to four pairs of socks, for $17.
Awesome.
So I gobbled up the brown, and the bright purple, and then I saw the black and went,
That could come in handy!
and snatched three fat skeins off the table. (All the rest of those colors were
gone
not three hours later. Woot!)
Then I stopped by
Purrfectly Catchy Designs
for these: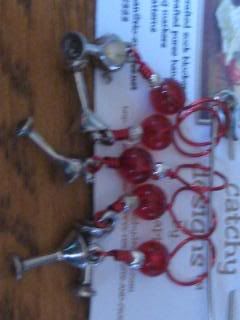 Aaaaand these: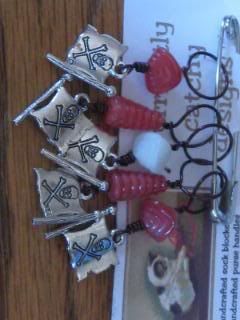 Yes. Those are pirate-themed stitch markers.
Arrrrrrrr!
Now, this vendor was new to me:
Miss Babs
. She had a beautiful booth with so.many.colors. Everything, though, was pretty much laceweight or sock yarn, two things that all kidding aside…I've got
plenty
of already in the stash.
But then she had this green.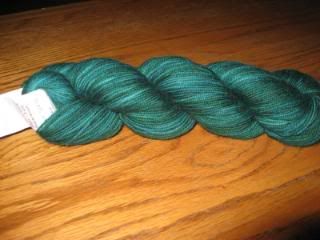 …and even though I had just gotten through saying, "You have enough sock yarn. For Pete's sake,
no more sock yarn!
"…I bought more sock yarn.
Eh, whaddya gonna do…?
Of course I stopped by
Lisa Souza's
booth. I needed a bunch of Better Than Basic brown sock yarn (yes, I know I already had lots of sock yarn, but this is a specific project that needs, like,
four
massive skeins of the stuff), so I got that (it's called Chocolate)…
…and then got attacked by a skein of Joseph's Coat.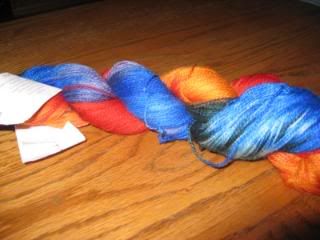 It looks disheveled because I keep petting it.
Nice sock yarn…niiiiiice sock yarn…who's a pretty skein? YOU ARE! Yes you ARE!
Ahem. Sorry. Lost hold of my dignity for a second there. Yes. Moving on.
I knew
Rabbitch
was coming to Stitches…but darned if I could find her. I even got a market guide and looked, but couldn't find her.
I wondered if I was crazy.
But I was
sure
she'd totally said she was coming this year.
I worried that maybe there had been a horrible mistake at the airport. That she'd been stopped by customs and was being held
without her knitting
in some miserable dank cell with only the American version of Olympic coverage to entertain her.
OhmyGAWD, the horror!!!
But then I found her, and the Toe Jam.
And lo, it was good.
Naturally, I got more sock yarn. Even though I already had, what, 600,000 yards of it in my bag. My camera is making these much more blue than they really are; "revenge" is a lovely rich red-dominated bunch of passion, and SF3 is actually more black than blue.
Oh, and that stuff in the background? That's the laceweight I wasn't going to buy because I am already drowning in laceweight but then there was this lovely subtly-shifting blue called Cornflower and I said
oh, what the heck!
and bought it.
The other thing I never thought I would buy I also bought here, from the lady Rabbitch was sharing the booth with – a darning egg.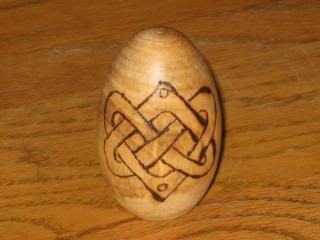 All these years later, I am still a sucker for knotwork. I've never thought I'd actually buy a darning egg, because usually I just…well.
You know how kids are always acquiring balls? Little ones, big ones, medium ones?
Yeah. They, uh, they work pretty darned well as darning eggs.
So do plastic Easter egg shells – you know, the ones that will soon be dotting the landscape all across the world?
And with four kids, I never have a shortage of these things. Hand me a sock that needs repairs, and I can probably reach under whatever I'm sitting on at that exact moment and find something that works just fine for darning it.
But this was just so stinkin' adorable that I bought it.
And that was about it. Unfortunately, the stuff I was actually looking for, nobody had (Baby Ull, again for a specific project); or, didn't have in the altogether too narrow range of my desired price-to-awesomeness ratio.
If the yarn was right, the price was
way
wrong; if the price was right, the
yarn
was wrong.
Someday, I'd love to be the kind of knitter who can walk in and drop three hundred clams on the yarn for one (1) project…but that day is certainly not
today
.
Tomorrow doesn't look good, either.
Every year, the market seems to have a 'theme' of some sort. One year, it seemed everything was sport weight; another, everything was worsted.
This year, it seemed like the keyword was "superwash." Sock and lace weights were all the rage; and the sport-and-up offerings just really didn't do a whole lot for me.
And the bargain bins were, on the whole, disappointing for me. It wasn't that there wasn't good quality stuff in there, or that the prices weren't good – it was mostly a matter of colors.
Bright oranges and yellows make me look like I was bitten by a zombie and am well on my way to joining the Unsavory Undead.
Because naturally, I don't look like one of the
cool
undead. No sparkly vampire over here, oooooh no, when I start looking like something that has passed back from beyond the grave, I've got that gray-tinged 'something you found under a rock' look.
Nice.
And it seemed like every color in those discount bins was some kind of awful for me.
Feh.
And then I got tired. Really,
really
tired. I even started getting cranky! So, I did end up coming home with a bit over a hundred bucks of my Stitches budget still safely tucked in my wallet.
Which felt really weird but, you know, hey. I'm not going to spend it just to spend it. It was hard to save up, I don't want to blow it on something I don't really want just because I
could
.
I think doing that would bring me out in hives.
Undead
looking ones, to boot.