Well, I was getting ready to post about the little vest I worked on all weekend, and suddenly I realized…I totally owe you guys some finished object pictures!!
So. Here is the
Pacific Northwest Shawl
, take III, in KnitPicks
Gloss Lace
, a 70% Merino wool / 30% Silk blend (you will, of course, pretend not to notice the garbage bags stuffed with shredded statements and whatnot from 1994, because you are classy that way) (sigh…yeah, when my husband cleared out the office closet, guess where it all ended up?!):
This is the one that has seagulls and pine trees and sand dollars…
…and then waves and fish…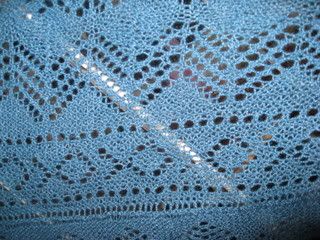 …and then the "oh, wait, I'm not actually 'almost done' I'm more like 'sort of close-ish to done' knitted-on border.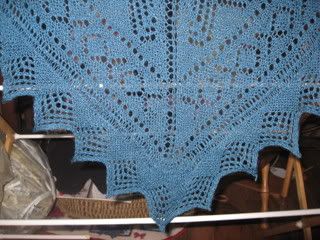 It remains a fun knit. Difficult enough to be interesting, not so difficult that you're ripping hanks of hair out of your head screaming, "OH MY GAWD, WHY DID I THINK I COULD DO THIS?!?!" It took two skeins of the Gloss Lace, which runs only $4 a skein so, hello, $8 in materials – my kind of project! It's not the kind of yarn where you fall down in a swoon due to its buttery loveliness or amazing hand-dyed splendor, but the project turned out beautifully. It blocked easily, and when you drape it over your shoulders it is both
light
and yet
warm
- 70% Merino and 30% Silk.
Meanwhile, I finished those Tofutsies socks. The pattern is from Interweave's
Favorite Socks: 25 Timeless Designs
.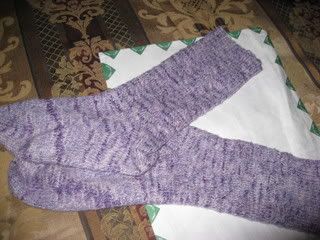 This is the Uptown Boot Socks pattern. Nice simple cable, and the finished sock is very comfortable from a pattern standpoint. I'm finding them less comfortable for all-day wear, though…the Tofutsies is a 50% Superwash Wool/25% Soysilk Fibers/22.5% Cotton/2.5% Chitin blend, which doesn't seem to wick as well as Just Plain Wool does. (Or perhaps it could be that I am just a
tad
biased.) (It is very unfortunate, being that I live in
California
, that I just don't like wearing cotton that much…cotton
t-shirts
, great.
Denim
, love it. Cotton
sweaters
or
socks
? Eh. No thanks.)
THEN, when we went down to LA last, I cast on and made these little babies: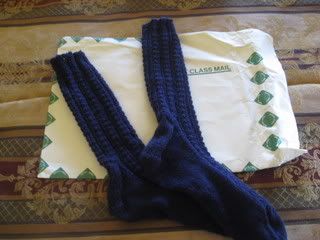 These are from the same pattern book, the Retro Rib socks. The "rib" pattern is a simple series of purls and k1b, and it creates a sock that is very comfortable. It is a stretchy pattern, so the same number of stitches can make either a man or woman's sock, but at the same time it hugs the leg nicely and feels like it will stay up (these are going to be a Christmas present, so I'm not actually wearing them…I tried to talk myself into believing that 'road testing' should be considered a high level of
quality assurance
, but couldn't quite manage to make it stick).
I have absolutely no idea what yarn this is. It is sock yarn, without a label. I dug into my Some Assembly Required Sock Drawer looking for a boring man-type color sock yarn, and found two label-less balls of dark navy sock yarn. It's super-soft and feels very high quality, and I
think
it
might
be Lang Jawoll...but I just don't know.
Here's a close-up of the "ribbing which is not actually ribbing therefore I am putting it in 'quotes'":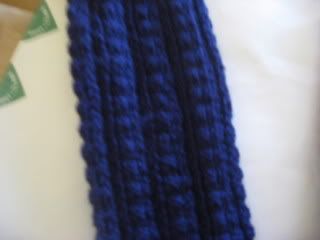 OK. And that's all I have finished lately. Now I'm going to go finish the post about the vest I started Friday…