Let's say, for the sake of the argument, that a certain mother is on a diet. Let's say that this mother is carrying an extra twenty pounds (mostly on her butt and thighs, damn it) and that this mother is
grimly determined
to get rid of it because it would be a very nice thing to do for her arthritic hips and knees.
Let's also say, purely for purposes of illustration, that this mother has
Certain Weaknesses
. Such as leftover chocolate birthday cake and/or ice cream.
Now. We all know how children cause weight
gain
. They do it during pregnancy, they cause hormone changes that cause bodies that once shed extra weight like water to suddenly retain every ounce of fat that goes in our mouths, they want to eat things like ice cream and macaroni and cheese, which NATURALLY we feel impelled to finish off for them – so children are like the kiss of death to a healthy weight range.
I mean, really. Have you ever known a child who actually helped a mother stay on a diet?
Here's one.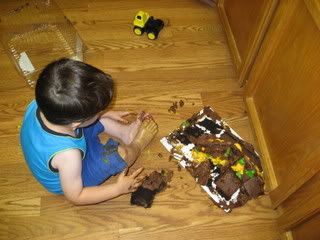 Yessir, Captain Adventure saw that leftover birthday cake sitting on the counter (why Grandma's birthday cake was left
here
is another rant for another day) (they are ALWAYS doing this to me – and potato chips, too) (and coleslaw and potato salad) (ARGH!!) and said to himself, "I had better pull that onto the floor and squash it between my filthy toes, before my Dearest Mother forgets herself and plunges into it, undoing three weeks of hard dieting in a single weak-willed moment!!"
Yes, I am truly blessed to have such a noble, selfless son…