I went to the shed to drop off some furniture.
When I got home, I found these: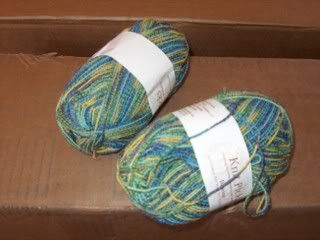 They followed me home!
…kin I keep 'em…?
Seriously, this may become a problem. I went there only to drop off the furniture, but dallied next to one of the stash boxes and then suddenly I said to myself, "But this is just so gorgeous! It's peaceful! It's a beautiful oceany color and I wantsssssssss it!"
I would try to say that I just won't go into the boxes when I'm at the shed unattended but frankly – well, why shame myself further with bald-faced lies?! Because obviously, whenever there are no witnesses and yarn about, there will be yarn shopping and yarn buying and yarn bringing-homing. And this is even worse, because I don't even have the guilt-pause while whipping out a credit card – it's already mine, dammit, and I'll bring it home if I wanna!!!
This is all a long way around to say: I think it for the best if, in future, my husband does all the shed-trips. I obviously cannot be trusted.