So we had a list of things that needed doing around the Den before we could put it on the market. They included the usual 'curb appeal' things, clearing out trash-formerly-known-as-landscaping from the front yard, picking up clutter, putting down playground bark and replacing worn out carpets and fixtures. Refinishing the front door.
Uh, the list…kinda goes on. There's a level of 'deferred maintenance' going on here that gets a little embarrassing when I list it all out.
There are also some truly breathtaking items on the list, like repairing a large crack in the exterior stucco. Things where you seriously ask yourself, "Do I want to deal with this, or knock $5,000 (OK, $15,000) off the asking price and let the new owner deal with it?"
We have no time to deal with these things right now, and no funds available to do it with even if we did have the time. Which, as I said, we don't.
So I was already starting to say, "You know what? We need more time. We can't afford to pay someone else, we need to DIY as much as we can, we need to take a deep breath, stand down, collect ourselves, and be reasonable here."
Meanwhile, out in the real world, we've got a major problem.
If you drive down any street in town right now, you will see a 'for sale' sign in front of about every fourth or fifth house.
Seriously.
Usually, we have roughly 30, maybe as many as 50, properties for sale; right now, there are 167 on the MLS alone, which doesn't count any of the 'for sale by owner' or Help-U-Sell deals.
Foreclosures are high, as are short sales and plain old fire sales. Prices are falling, falling, falling. A year ago, our model was selling for $575,000; today, we'd be lucky to get $525,000.
In other words – we aren't likely to sell for what we'd ask, and we wouldn't get a sale anytime
soon
.
So we're backing away from selling this spring, which is a tremendous relief to me thanks all the same. I was starting to lose hair over all the stuff we needed to do, and getting funding for it on such short terms was a nightmare.
Instead, we're battening down the hatches and preparing to weather yet another storm in the Den – this will be the third housing storm that has blown through this place since we moved here nine years ago. While the storm blows around us, we're going to be taking care of all those things we should have been taking care of as they came up, but, uh, didn't.
And also…
We're doing a remodeling project. A pretty intense one.
See this?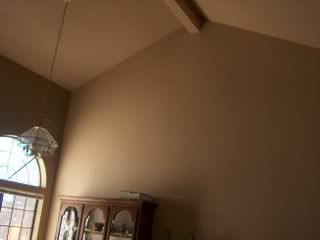 One of the options the original builder proffered was replacing this vaulted ceiling with a second master suite. The original buyers of this house weren't interested – they were DINKs, no pets, very into entertaining and gracious living (they put in white carpet, for carp's sake – WHITE CARPET!). They didn't want to pay the extra $20,000 for space they didn't need.
And if I were they, I'd agree. However, not being DINKs, we have mourned the non-existence of that living space ever since Boo Bug came along.
Across from this vaulted ceiling, we have this…
…which as you can see is used to store my spinning wheel, a piece of my husband's artwork, any toys the Denizens fling thither from the hallway, and dust.
We're replacing that with a student / tech center and a hallway which leads to a loft on one side and the new mini-master suite on the other. The mini-master will have a walk-in closet and a small but full bathroom.
We're filling in a corner currently occupied by a spa we never use to create a walk-in pantry and small office space for me downstairs (actually, I think the pantry may be bigger than the 'office space' – but I'm good with that), and a larger master bathroom upstairs.
Enter the architect, and the electrician. We have someone on the line for drywall, and another someone for any roofing we end up needing. Thus far, the estimates total up to just under half what I expected (and got funding for), so I'm assuming I'm right on track for being $10,000 over budget. (Ahem, yes, I am definitely one who plans for the worst and hopes to be pleasantly surprised by the best.)
IN OTHER NEWS.
This weekend we're doing a knit-along for the Knitting4Children group. We're doing a 5 Hour Baby Sweater, and by golly, I've found it really does take about 5 hours.
My favorite version of the pattern is at
Bev's Country Cottage
. And also, I am having a terrible time not cheating and casting on a little early.
Like, right now.