Holy smokes. Norah Gaughan.
Intricate stag bag
.
OK, I
really
need someone to invent a time machine. I need to have approximately 427 hours per day, thank you please?
Which reminds me. You wanna see the difference between "crock pot lazy" and "lots of stirring and tending and cackling over a cauldron" dyeing?
This is the purply-blue I made with the crock pot.
You see how it is kind of streaky? "Mostly" purple, but with random blue shots? That was kind of what I was hoping for, so it's all good…but when Boo Bug asked for
green
yarn, I wanted it to be more even.
And by 'more,' I mean 'completely.'
Which is what I got, thank goodness: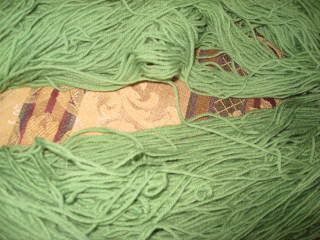 It's super-even in color. It took a lot more fiddling around with to do, but I think it came out about perfect. (And thus does Tama
beg
for a major smackdown…go ahead, boast about 'perfect' results, and let's just see what happens the
next
time you drop wool into a dye pot…)
For this go-round, I soaked the yarn for a full hour with half a teaspoon of Synthrapol detergent. Meanwhile, I mixed up a quarter teaspoon each of blue and yellow Jacquard acid dye powder – first with just a little water to get it started, then adding enough boiling water to make eight ounces. It also sat there thinking things over for an hour. (I cleaned the kitchen while they were resting.)
When I was ready to get the party started, I filled up my big pot with tepid water (barely warm to the hand), added the dye and stirred thoroughly. Then I tossed in 1-1/2 tablespoons of salt and a quarter cup of vinegar, and stirred thoroughly again.
Then I drained the soaking yarn, gently squeezing the excess water out of it, and added it to the pot. More stirring. More stirring. More stirring. Lots of stirring. Stir-stir-stir. Stirring
maniac
.
Then, I turned on the burner to medium and began the long, slow process of heating it up. Again, it's wool and I don't want to disturb its delicate sensibilities, so it took a good half hour to get it to that 'just below boiling' point. I was stirring, lifting and otherwise futzing with the yarn about every five minutes the whole time.
Once it achieved that temperature, I turned the heat down to the point where it maintained the temperature, but didn't push it over into boiling. Gas ranges can be awesome for this kind of fiddly stuff – sometimes your electric range will refuse to be that precise. It wants to be 'warm, medium, or hot' – not 'a little more medium than warm but not actually medium.'
Then, I sat nearby knitting for an hour. It was a rough afternoon, but in the name of Science, I will bear all manner of burdens. Each time I finished a round on the sweater, I'd get up and stir / flip / gently agitate the yarn…that worked out to about every ten minutes.
The dye bath had exhausted by that point, as evidenced by a spoonful of the stuff in a white measuring spoon. So I turned off the heat, manhandled the pot to the back of the stove, and ignored it overnight.
The next morning, I drained the yarn, washed it in tepid water with some more Synthrapol until the water was clear (there was a little green in there at first), then rinsed thoroughly, gently squeezed the excess out, and took it out into the backyard to hang on the line because folks, it was downright
toasty
out here yesterday afternoon! Bright, warm sunshine already…it almost feels
sinful
, to be honest.
And when it had dried…well, this is what I had. Two skeins of Boo Bug Green sock yarn, 75% superwash Merino, 25% nylon. The color is about
perfect
on the even-scale, which tickles me no end. It's like,
ohmygawd
, I totally followed directions for once, and
ohmygawd
, it like totally
worked
!
Boo Bug was pleased.
But Danger Mouse now wants some
blue
. And Eldest thinks
Ocean
would be nice. You know, kind of blue-green but not
too
green and absolutely not too
much
blue so really more of a greenish-blue might be better.
I have created a monster, friends.
But fortunately, it's rather fun to feed.