I finished some stuff.
Here's the baby blanket I was working on, and three pairs of booties, made from remnants of sock yarn:
The blankie was an easy knit, just alternating strips of the bobbly-lacy pattern from the 5-Hour Baby Sweater and straight stockinette. The booties are likewise easy little charmers – it takes about an hour start to finish for me to do one, mostly because of the incessant interruptions I have around here. I'll bet if I could just start knitting and not be pestered fourteen times a minute, it would probably take about 45 minutes.
Unfortunately, the ties are crocheted. Even just doing a stinking chain, I cannot seem to have a nice, even stitch when I crochet. And while I know that the best cure for this particular lacking on my part would be practice…well. I hate the way my crochet looks so much that I find it impossible to practice.
Stupid crochet.
When my Gran came over Sunday, she returned a box of knitting stuff I (allegedly) (seriously, I don't remember doing it) gave her almost a decade ago. In it was a few skeins of a Red Heart Soft in a rather intense variegated color. Machine wash and dry – baby blanket it is: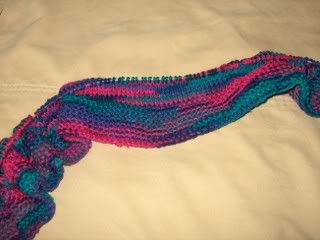 As the variegations are rather…um…
striking
, I'm going to do just a straight stockinette on this one. While it looks good in garter, too, I think the stockinette will tone down the 'pop' a little bit and let the colors blend a little more. That's my theory, anyway. Because this is a fairly
intense
colorway, and needs all the toning down I can bring.