Tedium (n): 1. the quality or state of being wearisome; irksomeness; tediousness.
2. "Cast on 449 stitches very loosely"
I have just accomplished #2 above. And it took the lion's share of my lunch half-hour. Even though I was using about the fastest method of very loose cast on, the backward loop (picture from
Let's Get Knitting
):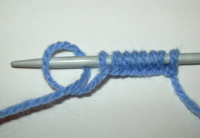 Holy carp.
However, there is a reason behind my madness.
First and foremost, when you cast on 449 stitches for a shawl, it generally means this is a shawl which is upfront and honest about itself. It does not, for example, start with a benign "cast on 7 stitches" and then slowly and sneakily increase itself by four or sixteen or eleventy million stitches per row until you're sweating and crying your way through 500+ stitches on each row.
No. This one starts out at 449, and works its way
down
. It starts off by showing you the worst it will be. "Here I am," it says. "I'm a 449 stitch monstrosity! It will take you almost half an hour merely to cast me on! And we're not going to talk about how long that first row will take, since you used the backward loop cast on method – fast out the gate, but hard to pick up that first row!"
I am not going to find out how long it will take for another hour (or so), because I am actually working right now. Stupid work, getting in the way of my creative endeavors!
Secondly, the
Brooks Farm
Primero (kid mohair) I got at Stitches last year has finally found a calling.
This stuff has been tormenting me.
I have two different balls of it, one in a mossy-brown that can't fully make up its mind whether it wants to be a dark woody green, or a slightly green brown; and the other is a variegated with the same mossy-color, cream, and beige green.
I wish I had touch-vision on my blog, people. It feels like…eh, butter is overused. I suspect a garment made of this stuff will feel like slipping into a tub full of rich, sensuous melted chocolate. Warm, and soft, and delicious. It is the perfect material to make something for someone I wish I could wrap my arms around and protect like crazy right now.
And it isn't too "mohair-y". You know how mohair can sometimes resemble…well,
my
hair? Flying every which way and refusing to show
any discipline at all!
? Can't tell if that's a split end, or just…the hair?
That isn't this stuff. It's mohair, but it's
polite
. It doesn't mind staying where it is asked to stay.
Yes. I love this stuff. At Stitches, I kept sneaking into their booth when they were busy with other customers so I could lurk in a corner stroking the skeins. It was embarrassing, but I couldn't stop. Honestly. That, and hogging other people's babies – which got me into a wee touch of trouble this weekend with Captain Adventure, but that's a whole 'nother story.
Anyway, the Primero, though polite as mohairs go, still wasn't all that well behaved. Sure, it agreed to not-too-fuzzy, but it wanted veto rights on all projects I proposed.
It didn't want to be the sweater I first envisioned. Then it didn't want to be a vest. And I couldn't seem to get a gauge / stitch combination I was happy with. And then I was revisiting an old pattern in a moment of
reality impairment
idle speculation and suddenly I thought, "Saaaaaaaay…you know what would look good?"
The first gauge? Disaster! Too big, too loose, too awful!! I began to wonder if this Primero was going to be happy with anything. I pondered eBay. I considered hucking the stuff out the window. I was getting annoyed. Every single time I get an idea, it just refuses to play along…
But I persisted.
What if
, I said to myself.
I were to take this bad boy down by a couple needle sizes…
Bingo. It looks
fabulous
my darlings. And oddly…it is not horribly off gauge.
These, of course, are foolish words to utter. "Gauge" and "pretty darned close", over 449 stitches, is like saying, "Well, the average hand grenade has a safety radius of 25 meters, and this one is a bit on the smallish side, so I'm probably good with a 15 meter safety zone…"
If this were a sweater, I'd be using the yarn as insulation in the walls right about now. But since it is a shawl…well. By my calculations (ahem – if anyone can explain to me how I can work my way through the most convoluted nested 'if' statements with derivatives and other inhumane terms and arrive at fiscal answers widely considered accurate, yet have terrible trouble with such things as "divide 3.8 inches in swatch by 16 stitches, then multiply by the total number of stitches in your project to get approximate ending size", I'd surely appreciate it), instead of about 86" wide and 44" deep, I'm probably going to end up with 82(ish) wide and 42(ish) deep.
I can live with this. Especially since I just blocked the swatch (in the sink, and held down by a binder) and got it to the desired 10 centimeters square without making it look a bit weird.
So in an act of
sheer, unselfish nobility
, I am furthering my craft-closet-cleaning endeavors by knitting it up immediately into a Stora Dimun shawl from Cheryl Oberle's Folk Shawls book. Which is one of my top ten "if I were stranded on an island devoid of life (except sheep), which books would I want to take with me" list.
Or at least, I will. The moment I can extricate myself from the office and get my behind in my rocking chair.