Steeks
There was an article in
Interweave Knits
where
some nutjob
Eunny Jang (who is
not
a nutjob)
insists
that if you're using Good Grabby Wool, you don't hafta do the whole 'sew
six thousand
a couple lines of machine-stitching along either side of the steek before you cut it' thing.
I find my ability to believe this…limited. It isn't that I don't trust wool, heavens no! it isn't that.
It's that I have trust issues in general, and would not be a bit surprised to find that the entire knitting community is waiting to
put my in my place
by getting me to trust that the 'grabby' wool I'm using will not go all to beans when I cut it.
Teachers Scold Parents for Missing Homework
We had the parent-teacher conference thing this week, where both teachers assured us our school-aged girls were
wonderful, marvelous, intelligent little people who were a sheer delight to have in their classroom, ha ha ha, yes
.
Once we lowered the weapons, they told us about the late homework thing (Eldest, who does it but then spaces on actually handing it in) and the attention-span issues (huh? wha? Oh, were you still talking…?)
But overall, nothing dire. For which I am grateful. We have good kids, who do
just enough
normal kid "bad" stuff to keep us from realizing that they are actually mutant aliens here on a reconnaissance mission to
take over the world
!!
Maybe 'Unhalloween' IS the correct term
OK, that bears a touch of explaining. There's a church here in my town which, every year, puts out a banner advertising that they are having an UNHALLOWEEN!!!!
Hallowed: regarded as holy; venerated; sacred. E'en: Evening.
And the church is having an UN one of those. One of these years, because I am evil and going to hell anyway, I swear to DOG I am going to turn up on Halloween clutching a bottle of Glenlivit and start screaming, "Where's the orgy? Where's the drugs? Where's the heavy drinkin' and dirty dancin'?! HEY! You promised me an
unholy evening
, you lying dirt-bags!!!!"
But I digress. The unhallowedness is this: There is still too much chocolate in this house. I am doing my level best to get rid of it, but I'm only one person and can only eat so many calories in a day before becoming not only full, but gaseous and nauseated.
And yet, there was knitting
Yes! I did some knitting this week!! (Which also doubles as 'cleaning out the craft closet'! Multitasking, at its best.)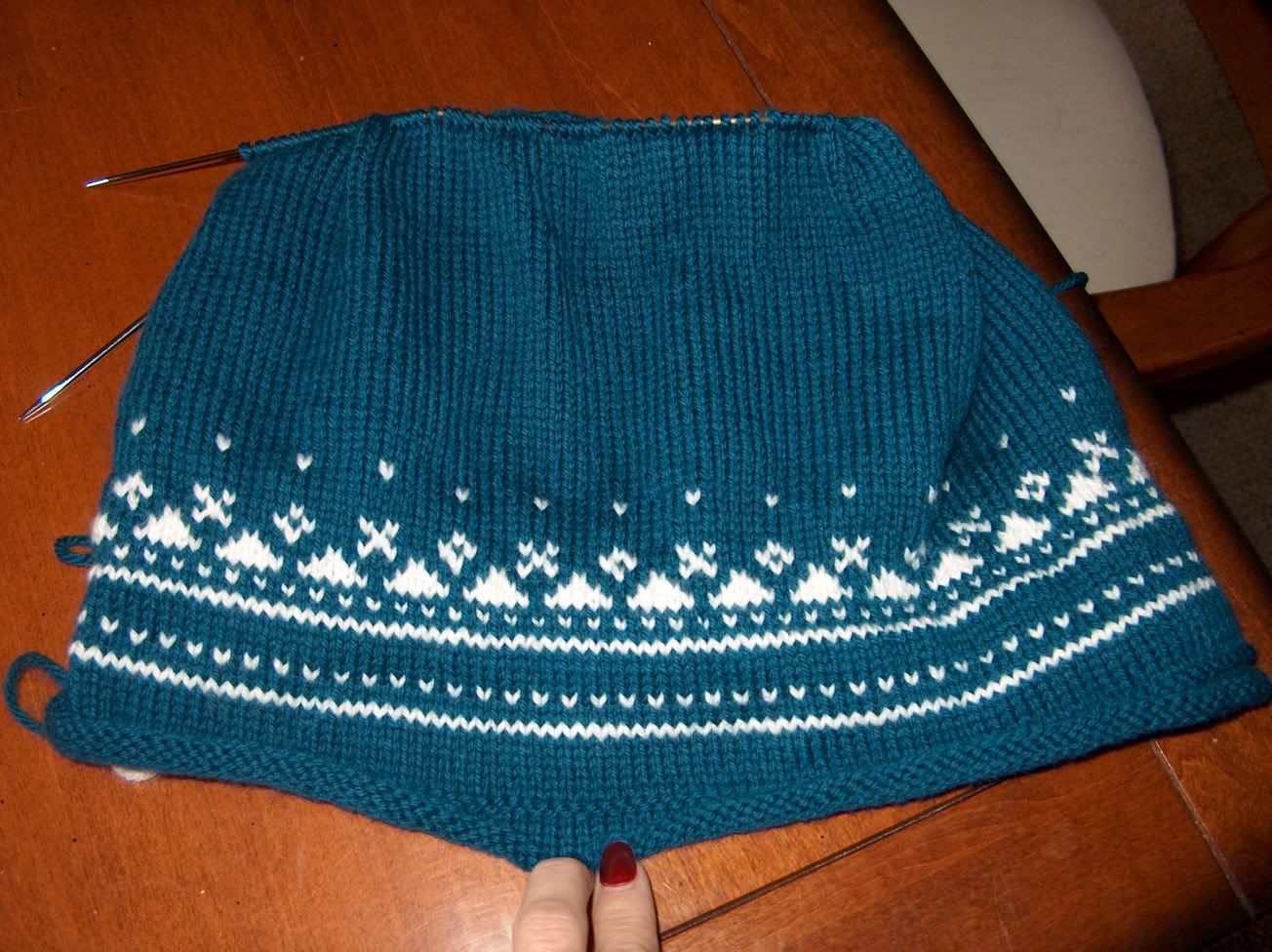 I'm almost to the bottom of the top! This is particularly miraculous because I have had limited at best knitting time this week.
And now, it is time to put…something…in the oven for Denizen dining. Geesh, what a week this has been. Have a great weekend, y'all…