I've been knitting a lot of lace lately. Having discovered that I am, too, Knitter enough to handle it, perhaps I've gone a little crazy with the lace-knitting thing.
The only "problem" with lace knitting is that while it consumes vast quantities of
cussing
wine
time, it does not consume a vast quantity of yarn. (You can see why "problem" is in quotes, right? Actually, especially with the KnitPicks $3-4 a skein lace weight yarns, lace knitting is a very
economical
way to go and hence I am even
more
fond of it – hours and hours of pleasurable work on something that makes people go, "Oooh! Aaaah!" and it cost me $6?!
Ship it!
)
So as I was digging around for the next Great Thing, I said to myself,
firmly
, "Let's see if we can't find something to do with one of the
bulkier
yarns in the old stash…reduce the
overall footprint
of the stash and like that."
There then followed about four days of flipping through patterns and guesstimating how much yardage was left on each ball and pondering and other such things before finally I got a kerchunk: a jacket from
Sweaters for a Lifetime
from Leisure Arts, shown here on the back cover: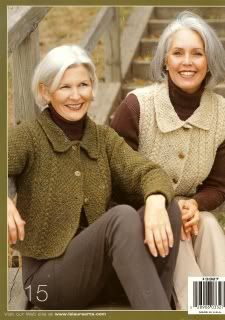 I had exactly the right yarn for it, too: Ten balls of Classic Elite Skye Tweed (100% wool, in almost
exactly
the same green as the jacket on the back cover) I got up at
Mendocino Yarn Shop
last year during a
huge!
"happy birthday to me" sale put on by the owner (who is a doll – if you're in the Mendocino area, you really
must
check out her shop…go ahead, it's OK, you can blame me for whatever happens…).
So I cast on and happily knitted away during the news for a few days (nothing helps temper the distress of the national and local news lately like a new knitting project). It's a simple pattern, easily memorized and pleasant to do even for those of us who have recently decided that really, what we
need
to do is stop taking all medications and see what happens. (Pain. Pain happens. But so does 'better concentration' and 'less anxiety' so, uh, well…back to the 'which finger shall I cut off' questions, huh?)
Then last night, I showed it to my DH.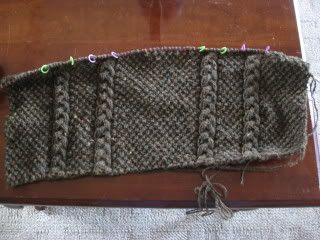 (Trust me - the color is greener in real life.)
"This is coming along really well," I crowed. "It's going to be a
great
little jacket – look at how this fabric is coming together, nice and sturdy, not
too
stiff but I betcha the weather is going to just bounce right off it."
"Uh, OK. It's a what, a jacket?"
"Yeah, like this." I showed him the back cover.
"Oh. Who's it for?" I mean, it goes without saying that it probably isn't for
me
. This close to Christmas? Please. It's
got
to be for someone else.
"Actually…" (I am a rebel, yes I am…) "I think I might just keep it."
"Oh! Wow, you're knitting something for
you
?" He was impressed. Then…he snickered.
"What?" The frosty tone really should have been a warning…
"Hee hee hee…it's just…hee hee…you're knitting something for
yourself
, that is, you know, modeled by
old people
…so you're ready for Old Person stuff now? I mean, you
have
been all about Coldwater Creek lately…"
Self Preservation: FAIL.
"Oh. Oh. Oh-oh-oh, no you
did not
…OK, buster, that's it – you just
totally
made the blog!"
He howled with laughter. (Self preservation: double fail.)
Then, my beloved DH raised a finger into the air and bellowed, "The 'D' stands for 'damned' tonight!!"
Oh, yeah, he thinks he's
soooooo cute
.
Wanted: One vest pattern depicting
Oldest Man In The Universe
, preferably toothless and looking cranky, to be toted around publicly while wearing my Old Person jacket and Coldwater Creek comfort-stretch jeans, with big Post-It note on it saying, "Perfect Vest for Darling Husband!"