Hey look, it's some knitting!!
This is the baby sweater I just (all-but-buttons) finished for Captain Adventure's preschool teacher.
I
love
this sweater. It came out of
Knit Layettes for Little Darlings
, and it is a wonderful combination of "cool looking" and "not really that hard". It also has a back opening with two buttons for closure, which eliminates that whole thing where you imagine baby's head will be
this
big and then it is actually
THIS
big and the mother has to quietly donate it when you aren't looking because it could not possibly ever fit over her child's head.
That big fancy looking cable pattern on the front is only eight rows, of which only two actually involve cabling. It was fast to memorize and knit up pretty darned fast.
I just started the bonnet tonight, and it likewise is moving right along. At this rate, I might actually get the whole sweater/bonnet/booties thing together before she goes on leave next week!
Hey, it could happen. After all, it's supposed to rain like the dickens out here tomorrow, and all weekend, and I'm heartily tired of trying to go places in the rain.
And as long as I'm doing pictures, look! Two 5-hour baby sweaters!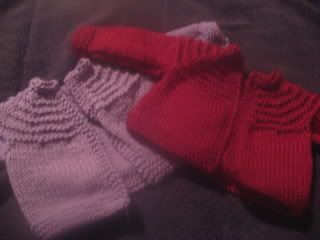 These are the "boy" version from
Gale Bable
. Cute, huh? These are always a pleasure to do, because they knit up so darned fast. It makes me feel very…productive. And talk about stash-busting! Used up two balls that have been loitering around for eons, probably smoking and drawing graffiti on the back of the drawer. Hopefully having a real day job of keeping a baby warm will straighten them out and put them on the path of Good Citizenry.
Hoooookay. And with that, I've probably revealed that sleep and caffeine deprivation are
not
helping me with my rampant imagination. Thank you, goodnight, and may your God go with you.