OK. We have paint on the walls. The yellowed synthetic marble has been recoated in white. We have paid an exorbitant sum for the flooring, which should be installed in stages over the next three weeks. And California Closets will be here in two weeks to install our solutions and make my life wonderful.
AND! Our neighbors (They of the Large, Extended Family) have thus far gratefully taken off our hands one armoire, one dresser, two side tables, two sets of "girl" furniture (bed and box springs, plus a toy box and a small armoire) and four huge (and somewhat well-loved) oak shelves. Plus two old-but-not-too-old carseats and possibly they have someone who needs a crib as well. We're very happy to be able to pass this stuff along; while it isn't exactly top-shelf, it is perfectly decent furniture with a lot of service left in it.
It feels so good to get all this stuff out of the Den. Already we can walk through the hall without fearing for life and limb; when we're all done with all this, it will be
awesome
.
Meanwhile, back in real life – I am knitting on,
with confidence and hope,
through all crises.
Check it out. I'm finally making the Lillehammer 1994 from the Dalegarn 147 book: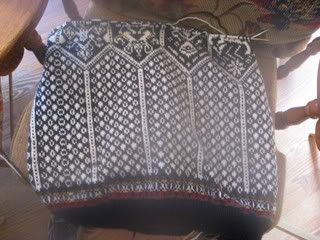 It is coming out
gorgeous
. I'm making this for my husband, so it is the XXL size. It is knitting up remarkably fast, which is good because I have a
ton
of Christmas knitting to do.
In terms of how difficult a knit this is, well, it is pretty easy for the first half. The part I'm on now is a bit more challenging – there are four unique panels, repeated twice (front and back). The graph is (as usual) a little small, and my glasses are AWOL (probably in a box somewhere).
I'm doing it in KnitPicks Merino Style. It's soft, cheap and easy to knit with – and the pattern is not desperately hard yet makes me feel profoundly clever for being able to do it. What more could I ask from a project?!