Hey look, some finished knitting!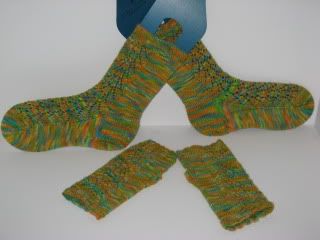 This is the Blackrose pattern from Knitty, and guess what? One skein of my sock yarn was plenty to make both socks and the wrist warmers. Which I kind of figured seeing as how, you know, I'm in charge of the yardage and such on them – but still. There's being pretty sure it has that kind of legs in it, and then actually having enough to finish them both.

I think if I were going to do these socks again, I would do two things: I'd use a darker variegated (or solid) (you know, like the designer recommends, ahem), and I'd throw in an extra repeat or two of the pattern on the leg. But that's because I like longer socks, and now I know I'd have enough yarn to do it, if I had yarn that was on the "generous" side of the yardage scale.

This was another good pattern – not too hard, not mind-numbingly simple (like the men's socks I'm making right now for my husband, with the straight stockinette for approximately eighteen feet around and around and arounzzzzzzzzzzzzzz…). It has a great combination of "pretty detail" and "letting the variegated do its thing," which was what I really wanted for these.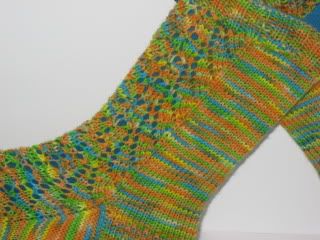 My knitting has been full of stops and starts lately. The ripping-out fates have been against me. Or with me. Hmm. Well, whichever it is when it seems like all you ever do is knit a swatch, and tear it out, and knit a swatch, and tear it out too, and knit a third and then, weeping and gnashing your teeth in rage, return it likewise unto the ball from which it came. Hence finally casting on a simple men's sock in size Orangutan – it's boring, but at least I'm not too likely to find myself tearing it out because the gauge isn't right or the color is pooling funny or it doesn't look at all like a bird, it looks like a vomiting bat…(I'm trying to design my own lace. It still isn't going particularly well. Possibly I am a little too stuck on what I want it to look like, and thus am being entirely too persnickety and it serves me right that I keep thinking my birds look like vomiting bats and my horses look like a very young child's drawing of a bloated sheep. Whatever! I refuse to actually give up! Because if there is any advantage to never learning, it is that you have no memory of why you probably should just give up.)