All things bright and beautiful,
All creatures great and small,
All things wise and wonderful,
The Lord God made them all
...and California got way more than its fair share of them, too.
We started our trip by heading north. Getting a fairly late start Saturday, we ended up crashing in a motel in Woodland…where we discovered two alleys we couldn't help but note: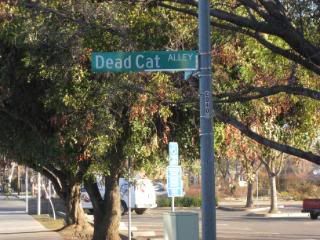 I am relieved to report that there were NO dead cats in Dead Cat Alley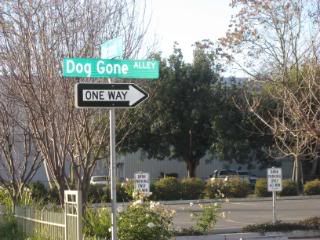 But there were no dogs living or otherwise in Dog Gone alley, which makes it fairly accurate a name.
By lunch Sunday, we were charging into the redwoods. If you've never seen a redwood grove…well. How can I put this…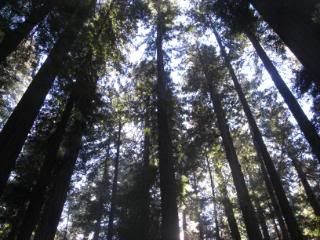 They make you feel very small, and awfully
recent
. Walking through a redwood grove brings the immensity of time very close…as close as your outstretched fingertips brushing on tree bark, as close as the scent of a tree that fell over a hundred years ago and
still
bears life on its imperceptibly decaying trunk, as close as the dizzying sight of a tree whose tops are a hundred feet or more above your head. Walking through the grove, with these massive trees above and lush ferns below, the overall feeling is so primordial you half expect a dinosaur to amble into view.
It had been a long time since I last walked among these giants…I'd almost forgotten that feeling of awe, and wonder, and privilege.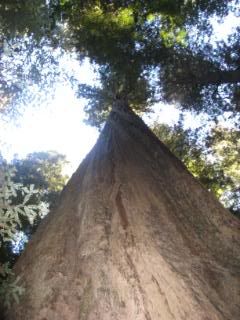 Another night spent in a motel, and the following morning we zipped north to Trinidad. A quick stop for smoked peppered salmon at
Katy's Smoke House
resulted in a brief conversation that led us to
Turtle Rocks Inn
, where the price was reasonable enough that we decided to spend both of our remaining nights there, wallowing in having nothin' to do and nowhere to be.
We spent a good portion of the next day exploring Patrick's Point, especially Agate Beach.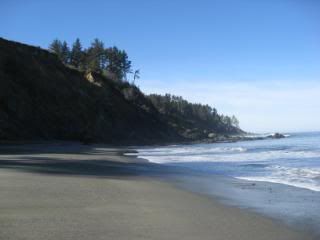 The tide pools were a blast. They had anemones all over the place.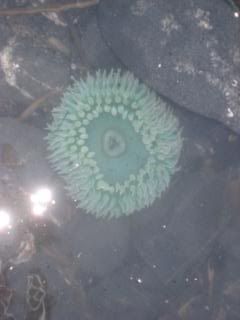 I managed to get my foot completely and utterly soaked getting this shot, because I am talented that way.
And starfish. Tons of them.
And snails with intensely purple shells.
And some of my personal favorite of the sea-critter people, hermit crabs.
He did NOT want to come out and say hi.
It is probably very juvenile of me, but I found this hilarious. What we have here, folks, is a
real
crab feed: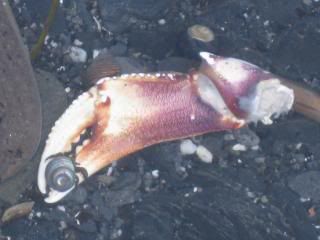 Get it? They're crabs, eating crab…?
We got a lazy afternoon coffee at the Beachcomber Café (so serious about their environmentalism that you will not find a paper cup anywhere…if you need a coffee to go, you can either bring your own mug or pay a buck for a glass Mason jar), ate lunch at the Eatery and returned to our room for a serious bout of loafing around on the deck in our
bare feet
because people? It was
over 70 degrees out there, YES WAY
.
I cannot explain this, I truly cannot. We got married in February fully embracing the Fact© that we would never,
ever
have, you know, "nice" weather for our anniversary. At the time, my main source of income was the harp – I didn't have an open weekend from March to December, because I was playing for other people's weddings. Why don't people get married in February out here? Because the weather is what might be called
unchancy
. January is usually our rainiest month, sure, but February ain't no slouch, either.
When we get this annual anniversary trip courtesy of St. Grandma, we tell ourselves for
weeks
that we mustn't be upset if the weather is, you know,
rotten
.
And just about every year, we have been blessed with either
fantastic, unseasonably warm
weather, or the kind of weather that blusters like
heck
the way you expect in February, but suspends its bluster while we're driving or hiking or whatever, and then promptly starts up again when we get where we're going.
This year, we had beautiful, sunny, warm weather for our trip – and the
minute
we got home, it promptly clouded up and commenced with the rain. The last two days have been miserably cold and wet – thank goodness, because we are headed for another
epic
drought around here.
There was, of course, knitting. My husband worked on my wedding present, both of us refusing to bring up the fact that twelve years on…there have been…certain
changes
to my…ahem, yes. Well. If $DEITY hasn't decided to zot me back into my pre-motherhood condition by the time it's finished, I'm sure it will look
awesome
on Eldest.
For my part, I took on the KnitPicks
Sipula Bag
, in the 'cool' palette.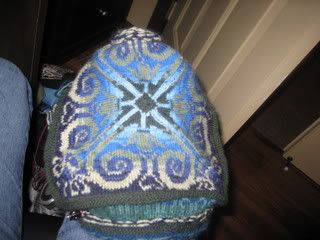 And while we knit in companionable silence, the sun began to set.
This is right from the deck of our room. Holy smokes.
It's a big world out there. A world full of wonders small and large. Just because I've seen them before doesn't make them any less miraculous; just because I've seen the forest doesn't mean I'm done with trees, just because the ocean has always been there doesn't mean it isn't still a vast-deep mystery.
I can't wait to come back, dragging the Denizens with me.
And a really,
really
big tent.