Boo Bug was the first person. Her sister Danger Mouse had told her a secret that troubled and upset her. She stewed about it all night and most of the morning. And then she did the right thing: She told her teacher.
Her teacher then stopped what she was doing, went to Danger Mouse's classroom, confirmed what Boo Bug had said, and took Danger Mouse to the office. They called us to come take a look.
A few days ago, she had wrestled a bent-up ring she'd found on a playground onto her finger. It was damaged, so it began digging into the flesh at the base of her finger. She ignored it long enough that her finger began to swell, at which point she couldn't get it off. It hurt an awful lot, but she was so afraid of how much
more
it would hurt to have it taken off that she intentionally hid the problem from us.
We might not have noticed on our own that something was wrong until it was
really, REALLY
wrong.
We've told our kids that there are times when a secret needs to be kept, and times when it needs to be told. It's a delicate subject…another person's trust is a sacred thing, and going around telling the secrets of others does
not
win any popularity contests.
But there
are
times when narking out your sister is
completely
appropriate. And I am so very, very proud of my Boo Bug for making the right call on this one.
And her teacher…you know, the more I think about it, the more grateful I am to her. How often have I brushed off one of my kids who was trying to tell me something…and she's got a classroom full of six and seven year olds, all yammering and nattering and "and you know what
else
"-ing…but she not only
listened
, but took action on what she heard.
She didn't pass it off to someone else, or make a note to tell somebody about it later, or tell Boo Bug that she should tell us, tonight…she
took action
. Right there, right then. Walked across the campus to Danger Mouse's classroom, looked at the problem and marched her to the office for help.
Between them, they saved Danger Mouse from a lot
more
pain.
Oh, it hurt when daddy cut off the ring, it hurt a
lot
. I'll be honest, the way she cried made me feel sick to my stomach. We just thought she had a bent ring that was making her finger swell because of cut-off circulation. A little split in the skin, that's what we thought we had.
It wasn't until the ring was
off
that we saw how bad the wound underneath it was. We bundled her home, put it in some cold water and quizzed her about how it had gotten this way. A few
days
? It's been hurting for a few
days
?!
How many bacteria can breed in a wound over the course of a few untreated days…?
We took her to the doctor, who examined it carefully and said she was
pretty sure
we'd caught it in time. It is definitely infected, and the infection is in an ugly place, a place where it could easily dig in deeply and spread.
While we like to think it would be impossible that she could have gone much longer without one of us noticing…it
isn't
as unlikely as we'd like.
That infection could have gone absolutely
wild
before it would have been
so
obvious that we couldn't possibly miss it.
Caught now, it's a simple course of antibiotics.
Left to grow…who knows. Maybe still no big deal.
Maybe a bone-deep infection.
Maybe getting the ring off would have been surgery. Maybe she would have needed more surgery to clean out the infection.
Maybe more of it to remove flesh or even bone killed by colonizing intruders.
Maybe…even worse.
But. Two people did the right thing, in rapid succession…and all she had to endure was twenty seconds of
intense
pain while daddy got the damned thing
off
, and a few pokes at it by her pediatrician. A swipe of peroxide, a new band aid…and the rest of the day has been
bliss
, a day of Taco Bell meals and ice cream while prescriptions were filled, of lounging on the couch eating grapes and watching cartoons while her parents
dissolved with worry over things that did not happen, but MIGHT have happened
got back to work.
Seem like such simple things, don't they? To tell a secret, and to look at a child's finger and take her to the office.
But together, they spared a child who knows how many hours of pain…or worse.
I'm so proud of my Boo Bug, for knowing when to tattle.
And I am eternally grateful to her teacher, for
not
just saying, "Well, you should tell your parents what you just told me" and leaving it at that. For not making a note to send a note to somebody saying someone should think about doing something.
For not just ignoring the whole thing.
She saved our girl a lot of pain.
May the favor be returned to her, three-fold.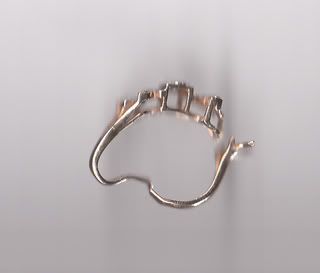 The offending ring…you see how gnarly that bent-in part is?! It just DUG itself into the bottom of her finger…OUCH!