Finished Friday: The Irish Diamond Shawl from Cheryl Oberle's Folk Shawls.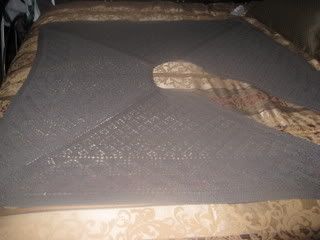 This is the second time I've made this shawl. The first time, I used a baby alpaca sportweight. That one turned out
very
soft and warm, but a little…overly delicate? Kind of stretchy-bouncy? It's better suited for using as a blanket than a shawl, really. If you try to wear it and walk around, it's just not
built for endurance
.
This time, for the sake of
extreme novelty
, I used the yarn called for: Harrisville Designs Shetland, in dove gray. I know, this is a tremendous departure from my usual method of deciding that on the whole I think there should be no problem substituting this Aran-weight alpaca for that fingering-weight silk.
I think this is a great yarn for this purpose: Being wool, it is warm for its weight. It is a crisp-handed two-ply, so the lace shows up brilliantly. Given the well-documented struggles your faithful correspondent has suffered trying to do lace, I have to say that this is a great yarn to use – it isn't too "drifty-lacy" or "fluffy", so you can clearly see what you're doing at all times.
That said, even after a thorough washing it is not a particularly soft and luscious yarn. It is old-school wool, a bit scratchy and definitely not something you'd want to use for things intended for
right against the skin
.
I remembered this shawl pattern as being very challenging the last time, so I'm a little surprised to report that it went super-fast, and without any major tribulations. I ended up only using half the yarn I bought, so hey! I could make another one!
Uh, later. Maybe. Because! It is one of the sneaky ones – you cast on a small number of stitches, and then increase by eight stitches per right-side row until
suddenly
, you've got some obscene number of stitches and each row is taking half an hour or more and this is usually when the children get extremely
needy
and then somebody plays with your row counter in the middle of row 133 while you're changing a diaper and you come back all distracted and think you're on 147 and don't realize the problem until two rows further on and
it just doesn't end well
.
When I decided to cast off, it was 9:00 Thursday night. By the time I finally pulled the last loop off the needles (with a few interruptions from kids demanding 'drinks' [pronounced, "We don't want to go to bed, we'd rather hang here with you"] and suddenly realizing I hadn't started the dishwasher…or, er, filled it up yet), it was 11:30. Keeping in mind that I get up at 5:00 in the morning, every morning including Sunday – you can imagine what state I was in by this time.
But it was worth it – I washed and blocked it Friday and it spent the day lounging around on my bed drying, and then I picked it up and draped it over my bedframe and it looked positively
elegant
.
SCORE!
And now, I'm moving on to a cabled scarf. Only at Christmas, people, only at Christmas…
…
scarves…meh…