Well, I bought a new battery charger for the camera (sigh), and hey! It
worked
!
So, without further
adieu
ado…(does anybody but me find it funny that I would Freudian 'adieu' instead of 'ado'?):
The Sweater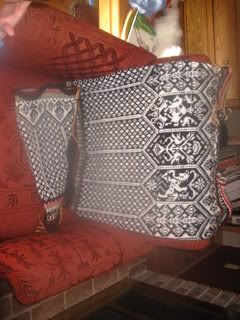 This is the Dale of Norway Lillehammer. I finished the one sleeve and cast on the next one; I just finished the ribbing for the cuff on that one and am about to start the color splash at the bottom. I have forgiven the sweater for not speaking up sooner when I was doing the increases wrong, and it has forgiven me for being so childish.
The Socks
I always have a pair of socks in my purse, to whip out whenever I have to sit around waiting for something. These just got finished last week:
They are your basic stockinette sock in Claudia superwash, 'Circus' colorway. They are very bright and happy, and I like them a lot.
I'm tearing out the Girlie Girl socks in the Schaefer Anne. I'm just not feeling the love for the look – that yarn wants to be knit on smaller needles. Instead, I think I'm going to try (warning! This will open a PDF of the pattern!!)
Dublin Bay Socks
, which pattern was pointed out by
Bells Knits
. Not only do I like the look, but the lace pattern is
extremely simple
. This is important for those of us who are
highly distracted
most of the time.
The Shawl
I joined a (somewhat) local Prayer Shawl group, and have dutifully cast on a shawl.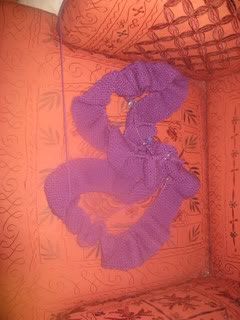 Eventually, it will be the Stora Dimun shawl from Cheryl Oberle's Folk Shawls. At the moment, however, it is just a big purple squiggle. This is one of those shawls that hits you hard at first ("cast on 449 stitches, loosely"), but gets faster and faster as you go due to decreasing eight stitches every right-side row.
This is Good Old Red Heart, in a really vibrant purple. Machine wash and dry, no special care required.
So, there you go. Pictorial proof that knitting is still happening in the Den. Although not at the rate I'd like, frankly - life has gotten waaaaaay too busy lately. I hate these 'busy' cycles. In the car! Out of the car! Back in the car! Drive here! Drive there! Pick up this! Drop off that! Lessons! Field trips! Doctor's appointments! ARGH!!!
Oh well. Eventually, it will settle down and we'll be complaining about how boooooored we are...