The last week has been a real humdinger, work-wise. It was my second turn as primary on-call, and boy, did I ever draw the short straw. Job failures every night. Pages! Problem tickets! Irritated / panicking partners! Working all weekend! Emergency "fixes" that ended up being bigger problems because clearly, you did NOT actually understand what we were TRYING to do, because this is, like, THE OPPOSITE of it…
{face-palm}
Been a helluva fiasco. And I was getting mighty tired of it by the time I was logging into the paging system to set the next guy to the primary on-call spot.
There's still a bunch of small fires burning, but hopefully we've gotten the majority of them settled now; with any luck, the next guy's tour of duty won't be so ugly.
MEANWHILE…the curtain is starting to produce beans.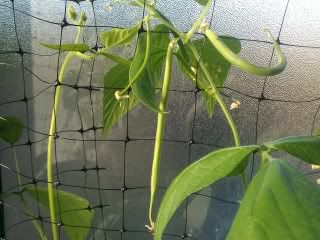 They sort of took a pause there, right after I put the netting; as if the plants themselves weren't too sure of what I was up to exactly. But they're starting to stretch themselves up and climb now.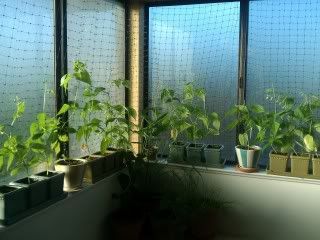 I'm still finding this ridiculously amusing; so much so that I find myself pondering what I might be able to do with, say…
…a shower curtain…
…and maybe some felt…
…a little PVC…
…a fish tank…and pump of course…
…and one big, empty wall with good indirect light…
(To answer the question around the Big Orange Structure – the husband hasn't quite gotten back to it yet. He had a part in a play. And D&D games. And a festival to go to. And several other social things to do. I have no idea when he's actually going to get back to it, either, because he's packing up his weekends as fast as he can with anything / everything ELSE – I suspect I will probably have to resort to trying to take that area back to force him to fish or cut bait on that deal. That's right, I play dirty that way.)